FISHING IN ISRAEL - GREAT EXPERIENCE FOR ADULTS AND KIDS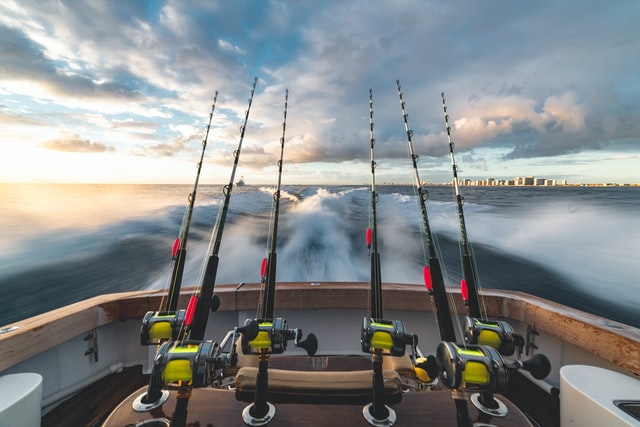 There are things on earth that the overwhelming majority of people love, that unite and inspire, make you rejoice, and give excitement. These include fishing, one of the best types of recreation. It would seem that fishing is the same everywhere: in the calm and unhurried Nile, in the mighty Lena, in the restless northern or fertile southern seas. But it is not so. Each place has its characteristics.
Fishing in Israel in the Mediterranean Sea is an exciting and interesting activity. If you want to gain impressions not only from visiting historical and holy places, but also to see the unique natural landscapes of our country, go on a boat trip, feel like a real sea wolf, surrender to your favorite hobby in unusual conditions for you - welcome to sea fishing in Israel ...
In the early morning, as soon as the sun shows its first rays from the horizon, you will sail with an experienced captain on a yacht away from the coast, breathing the sea breeze and smelling the pungent smell of the sea, and ahead of you is a completely romantic journey - hunting for fish, in abundance found off the coast. The yacht is leaving the sea faster and faster - this is understandable, you need to return before noon, until the heat covers, and the fish goes into the depths. An experienced captain, knowing the fishing spots, will lead the vessel to the fishing spot with a confident hand.
The yacht has everything you need: tackle, bait, bait, equipment - you don't need to worry about anything, just do what you love and enjoy life! Fishing in Israel is also remarkable in that tourists from Russia who are not used to catching large predatory fish can try themselves in this capacity. Few people can boast of fishing for tuna, but here it is possible. Tuna is a very large fish, some individuals reach three hundred kilograms, and such prey will become the most important trophy in the fishing life. Barracuda, or sea pike, is also a large fish, up to a meter long. I didn't have to catch tuna - a barracuda trophy is no less valuable. The hunt for the world's fastest coryphaeus fish is an exciting experience, trying to catch up with it and catch it is like a record at the Olympic Games.
And finally, the most delicious and tender dorado, a rare and dear guest in Russian fish shops, is very good. Each fish requires special skills and gear, which the organizers will provide you with. Well, what a fishing holiday without a final party, where you can taste the freshest catch and share your impressions? Your day will be unforgettable, and if you are looking for ideas for a birthday, nothing is better. Underwater fishing is also possible in Israel.
In this case, your day will begin with the instruction of an experienced instructor - otherwise, it is impossible. After all, it is fraught with risk, because few have been on such a fishing trip. Tackles are provided by the organizers, they will conduct training, allow practicing with an underwater gun and a harpoon. And a completely original idea - night fishing for squid! This is already completely exotic, and it is worth trying it, especially since everything is provided for and perfectly organized. The service is available not only for tourists but also for residents. Few guests from Russia are familiar with sea fishing, and you should try it in Israel.
♥The proposed fishing is individual up to 8 people.
♥You go on a yacht in the morning from the port of Marina Herzelia for fishing in the Mediterranean Sea, with an experienced captain, on a sailing yacht up to 10 meters.
♥Fishing duration 5 hours.
♥You are provided with fishing equipment like fishing rods and bait.
♥The captain is well-versed in sea waters, and you go out to fishing spots.
♥Maximum on a yacht from 1 to 8 passengers.
(the price does not change from the number of passengers)
5 SELECTED FISHING SPOTS IN ISRAEL
For any child, fishing with a dad or grandpa is a real ritual. A very important event in his life, so the first fishing should leave only the best memories. So even if you are the most experienced fishing guru who climbs fearlessly on the most dangerous reefs, the outing with the kid should be planned differently. Here you need to find a place with easy access, suitable conditions, and a very high chance of returning with loot.
Here you will find a list of the most suitable places to go out into nature with a family combined with fishing. In addition to fishing, you can enjoy a variety of attractions, such as bicycle tours, a camping site, activities for children, etc. It is no longer a fun family outing, it is a fun family outing with fishing!

1. Maayan Tzvi Fishing Park
Everything you were looking for in the fishing episode and much more beyond. A wonderful nature reserve next to the beach. An ideal place for first fishing with the child, a large fishing pond complex with shade sheds. And after that, you can enjoy together a wide range of activities for children: wet compound, food carts, omega, table games.
Before you arrive to call to coordinate arrival.
Location: Maayan Zvi Fishing Park, Road 2, Maayan Zvi
Phone: - 050-7566600, 054-4440379
Website: https://www.fishing-park.co.il/

2. Fish and fish fishing park
Perfect place for new fishermen. Not particularly large but entirely dedicated to fishing. Here you can get a full briefing and start catching up. The staff of the place is very professional and has fun helping with everything that is needed, even for those who do not know how to fish. The children will enjoy that there is plenty of fish and the parents can on the spot prepare the fish on the barbecue. Here you can catch different types of fish ranging from paddles to catfish of very respectable size.
Location: Fish and Garden Fishing Park, Derech Hasdot, Beit Hanan
Phone: 052-3630835
Website: https://fishing-camp-180.business.site/

3. Fishing-Park - Fish in the village
Especially a nice place for kids. There are all kinds of attractions here: pools, archery, water slides, bimbo complex, ball pool, and of course fishing! A nature experience for the whole family with Michael, the charming, dedicated, and kind guide. In season there is also picking! If you are looking for a place for family fun in nature - to try the Fishing-Park - fish in the village.
Location: Fishing-Park - Fish in the village, Derech HaEmek, Yokneam
Phone: 04-9894095
Website: https://dag-bakfar.com/

4. Safsufa fishing park
The company of Chapter Safsufa promises an excellent experience for the whole family that includes fishing, quad biking trails, a living area, and unforgettable nature recreation. The arrangement of the place is successful, seating areas are fun, just come and enjoy. 25 acres of green grass, shaded corners suitable for a family picnic.
Location: Safsufa Fishing Park, Safsufa
Phone: 072-3713434
Website: https://parksafsufa.co.il/
5. Fishing lake in Hamat Gader
You heard right, Hamat Gader also opened its gates to fishing lovers. Today you can combine a family trip to the north with a fishing experience that is a favorite of us all. The place has already become one of the favorite attractions in the Golan and the northern region. Here you will also be asked about the place to prepare the fresh fish that you have just taken out of the water.
Location: Hamat Gader Chapter
Phone: * 6393
Website: https://hamat-gader.com/
SELF-BOOKED FISHING CRUISES IN ISRAEL
1." Li-Yam fishing cruises"
Pleasant fishing cruises await you with a professional skipper and escort to the editor of the entire departure. You will be impressed by the extensive experience of the guide and learn many and varied techniques of fishing methods. Each fishing trip lasts about 3 hours and for a nominal fee, you can also get equipment and bait.
Leaving the marina in Herzliya
Phone: 077-5080537
Website: https://www.lee-yam.co.il/
2."SAILOR "
A yacht refiner and a SAILOR sailing school guarantee you an unforgettable fishing experience, including albacore fishing and blue tuna in season. Depths and many fishing points - all types of fishing from the boat at your disposal. Fishing cruises are highly requested therefore to coordinate ahead of schedule.
Departure from Jaffa port
Phone: 077-2120366
Website: https://www.sailor.co.il/
3." Danit - Danish"
Guided fishing cruises for beginners on a luxurious catamaran. There is all the necessary equipment here so you do not have too much to think about. You can even find the extra size on the well-known TripAdvisor website. A great option for a fishing outing aspiring to have fun and come back with the fish.
Departure from Tel Aviv Marina
Phone: 052-3400128
Website: https://danit.co.il/
4."A yacht in Herzliya"
A luxurious 38-foot yacht properly equipped. Everything you need to fish in the middle of the sea, everything from fishfinders to especially comfortable fishing rods. You can take a swim break on a mattress or oboe with a great sound system and music.
Full space! Up to 13 participants!
Departure from Herzliya Marina
Phone: 077-9977089
Website: https://herzliya-yacht.co.il/
5." The SEA at sea"
For real fishermen, fishing in the heart of the sea is a real celebration, for beginners - an opportunity to have fun. And the children especially enjoy: the open sea, a yacht swaying on the waves, waiting in hand with fish caught here is if not the ultimate dream of every child.
Departure from Tel Aviv Marina
Phone: 050-7547135
Website: http://www.haseabayam.com/
6." Putzker Center"
In the fishing center of the Putzker Club, you will find a variety of fishing cruises. Bolus, jigging, trolling from the boat - all options are open in pursuit of the fish. The crew's experience helps him without too much trouble finding fish concentrations.
All fishing enthusiasts are more than welcome to visit.
The exit from Nahariya
Phone: 04-9511503
Website: https://www.putsker.co.il/
7." SEA4U"
A huge yacht with 4 bedrooms, toilets, sheds and of course spacious decks. Truly a yacht of indulgences, for those who love comfort in everything. You really will not forget this cruise for a very long time. They also promise guidance and accompaniment by the most experienced fishermen.
Departure from Herzliya Marina
Phone: 072-3304975
Website: https://www.sea4u.co.il/
8." SHATIM"
Fishing in the sea surrounded by an aura of romance: the endless expanses of water, the ringing calm, and the light sea breeze - this is a whole adventure full of excitement and the flow of adrenaline in the blood.
Go fishing with "SHATIM" at sea to give yourself a sea of ​​pleasure!
Departure from Ashkelon Marina
Phone: 054-7755561, 054-2250055
Website: http://www.shatim.co.il/
9. Fishing cruise on the Sea of ​​Galilee
A unique experience! A must for all fishing enthusiasts. At the beach, you will board a boat with an experienced and professional crew and you will be able to try different types of fishing depending on the season. There seems to be everything here for unforgettable fishing, all that remains is to bring some friends and the mood.
It is recommended to call in advance to find out all the details.
Phone: 054-2200324
Website: https://www.mezulot.co.il/
We offer you to enjoy the variety of sites for fishing, and we will be happy to provide you with transportation in Israel to any place where you can fish.
BOOK YOUR ISRAELI FISHING EXPERIENCE TODAY!